Classmate Remembrances about Irvin, El Paso
and Our Times in the Late 1960's





General Musings About El Paso by Shasteen





Songs — Billboard Top 100 for 1964-1967
Music of the Era - Let me know your favorites
and we'll build some CDs for the party!





On the Lighter Side!!

Do You Remember When?? — Where were you When??
Optical Illusions — Download the Internet!
What did she say?





Classmate Remembrances about Irvin, El Paso
and Our Times in the Late 1960's


Kent Byus '67, August, 2007 — Classmates of 1967,
I am Kent Byus, a proud member of the Irvin High School graduating class of 1967. When I first heard from Joie (Jo Ann Campbell) I was tickled at the thought of being reunited with friends and acquaintances from our most precious and often innocent years. I enjoyed almost every moment I spent at Irvin...almost every moment. I am anxious to attend this coming reunion for many, many reasons, but mostly I am anxious to share your life experiences.
When I sat down to write this letter, I made a promise to myself that I was not going to look back...rather, I wanted to say thank you and recognize the accomplishments of a few in anticipation that other members in the class would provide more insight into the accomplishments of more of our classmates with whom we were graduated.
As I scanned our class roster, viewed the pictures, and did a little research, I became really proud by the work and effort of our classmates. I want to mention a couple in an effort to encourage others to bring us up to speed on the activities and contributions of others of us.
I want to begin with Russell Hicks, now known as Father Justin. What a wonderful life of commitment. My son, Joshua is majoring in anthropology at the University of Texas and when I pointed out the contribution of Father Justin, he filled with awe and inspiration. I am amazed that OUR classmate Russell is instrumental in helping preserve the most sacred foundations of Christianity and western civilization. His spirituality, his discipline, his devotion, his love of human kind, and his patience are admirable and praiseworthy. Thank
you Father Justin (Russell) for what you love to do.
Then there is Hilda (Green) Heady. Classmates, this is a truly REMARKABLE person, and she graduated from Irvin with us in 1967. Hilda continues to exercise her leadership in creating a more compassionate place for this nation's rural and rapidly aging population. I have read her testimony to Congress regarding the health opportunities and obstacles facing the rural elderly, and I am humbled by her sensitivity, her conviction, her strength of purpose, and her determination to make life better for others. Thank you Hilda for doing what you love to do.
I am amazed by the work of Don Dungan; this is an exceedingly rare type of developer. Don is part of a team that has created one of the most environmentally sensitive business and professional complexes in Texas.
For some time I have studied what is called "new urbanism" and have come to believe that people like Don are the builders and developers who will lead the effort in preserving and harmonizing our life and work spaces with the reality of our fragile environment. Don is entrepreneurial, innovative, practical, and forward looking; plus he graduated with all of us. Thank you Don for doing what you love to do.
Last month my wife Nancy and I had the pleasure to share dinner with Taffy Bagley and Joie while we were in El Paso...what an enjoyable evening of good food, good wine, and great fellowship. We are a talented bunch, Class of 1967, and I am anxious to again sit with and share life with you. See you in October.
Regards my friends, Kent Byus '67, August, 2007

Richard Hibbard '67, August 28,2007 — From the time I started at Irvin, the football games and even the basketball games were a big part of our entertainment. From the time I started driving in '65, going to the Red Rooster and especially the Oasis was mandatory either after the game or just to go. I remember "Orbiting the OA" to see who was there and to check out cars and girls (depending on whether you had a date or not) Stopping for at least a coke was obligatory. My most notable OA story happened my senior year. My date that night wanted to hang her bra on my car antenna as we orbited. Exactly why I still have no earthly idea. She was NOT Pam Gibbs, who would have NEVER done such a thing and had left for California. I'll never tell who it was...
Even after I graduated and went off to Rice, I would go Orbit the OA when I came home for holidays. Often it would be with my sisters and her friends, occasionally with a date. My youngest sister Barbie still fondly remembers going to the OA for a Coke in my '68 Fiat. None of my other brothers or sister would take her-it was embarassing to them back then to be seen taking their little sister to the OA.
My final visit to the OA came back in 1971-72 when Steve McQueen & Ali McGraw were filming a scene at our Oasis for "The Getaway" There must have been in excess of 20,000 people there and the closest I could get was by one of the last stores on the far part of Sunrise center from the OA. I couldn't see anything from a couple hundred yards away, but I was there. The next time I went to El Paso the Oasis was gone, torn down and paved over for more parking...Richard Hibbard '67, August 28,2007

Jim Letersky '67, June 16, 2007 — On El Paso Hamburgers — It's strange, I remember Teen Burgers @ A&W, Der Wienerschnitzel, & KFC, but not McDonalds. I do remember a place that had cheap hamburgers (almost nothing but bread) that my family went to maybe once, but since it took a half dozen burgers to fill me up, the overall bill probably wasn't cheap. I guess it could have been MacDonalds. It was probably the same spot as Carolyn's 100 burger place. I left El Paso in December 67 and spent a year at an Air Force Tech School in Biloxi, MS then went overseas to Germany and England. They had A&W in Germany and KFC in England. Other Americans overseas talked about MacDonald's but I don't remember eating at one until 1971, when I stayed with my brother who had moved to Abilene, TX. The big thing in Abilene at that time was driving round and round a Sonic. American Hamburgers are unique and when I lived near London, Hard Rock opened their very first Cafe to show the rest of the world what they were missing. German hamburgers are like meatloaf, with all the goodies cooked in the meat. The British had a chain called Wimpy's. Wimpy is the guy in Popeye cartoons that's always eating hamburgers. I think they might have invented the soy burger or it least they tasted like that. They came with bread, a thin slice of mystery meat, and ketchup. — Jim Letersky '67, June 16, 2007

Don Dungan '67, June 12, 2007 — I left El Paso in 1976 and moved to Austin as a professional musician. ( I am now a commercial real estate developer.) Mike was an inspiration to me to pick up the guitar. Mike Cancellare just moved back to El Paso. He lived in the Austin area for quite a while as well. He was one the first really good electric guitar players that I saw live. He used to play on Hondo Pass at Bobby Fuller's Teen Club, which became The Rendezvous. I THINK he was in The Maggots, Kite, Wailing Wall, Banana, etc. He has played with a lot of the big names including Chuck Berry. I recommended him because he is actually an authentic part of our 1960's scene. He has a broad repertoire which would include stuff like Credence, Cream, Freddie King, Hendrix, Steely Dan, James Brown, Ray Charles, etc. I think he is a great fit for this gig. Mike was the oldest (62) from a big Northeast El Paso family (10 kids). From what I can tell, the other guy (Double Take) is probably O.K. as well, but my vote is for Mike. How's that for an unbiased opinion? — Don Dungan '67 June 12, 2007

Don Dungan '67, June 11, 2007 — Malicio Oolibarthy was a fictional character that Steve Crosno, the late El Paso disc jockey used to refer to. It was just one of those odd things that I find myself recalling from our collective, odd Northeast El Paso heritage. Crosno used to have a live TV show called Crosno"s Hop and remember watching my brother, David do the Bop with his slicked back, Brylcreemed ducktails and thin, thin belt holding up a tight pair of buttoned up Levi's. Too cool. — Don Dungan '67 June 11, 2007


General Musings About El Paso by Shasteen

El Paso from a Satellite and Irvin Area with Street Name and Normal Homecoming Parade Route — I do and don't remember the green. We had grass and trees growing in the desert (at our homes) when we were kids and after we left, water became scare and most homes in our neighborhoods no longer have grass and not many have trees. The street names are beginning to come back.
Thanks to many classmates for information on this page including Bill MacDonald, Don Toland, and many others who have better memory capabilities or proximity than I.
The Irvin "I" on the Franklin Mountains — Some have told me that it is no more, but just did a Google map look and here is what I found. The smaller picture is a close up and the top right corner points to the same spot on the larger map. The horizontal running road in the large map is Hondo Pass and the diagonal street on the bottom right corner is Dyer, with the big looking buildings about half way along that diagonal Dyer street is the Sunrise Center "Mall". The close up looks like a bunch of white washed rocks. Can one of you locals either check for me or remind us at the reunion to check with the principal or some of the locals..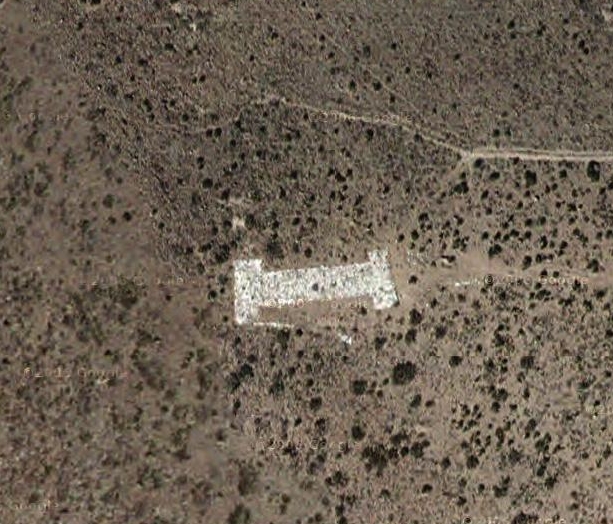 A&W Root Beer at Hondo Pass at Diana — Always had the best french fries. And Carhops!
Bowlero Lanes on Dyer — Learned about pinball and some bowling at this place with my buddies and a couple kids a year younger.
Casita Linda on Hondo Pass — Opened after we graduated, but my parents loved the place and I have it on good sources that it is still very good.
Crystal Pool Swimming Pool with the well water — Diving board in the center, ice cold water once a week when they drained and refilled it from their well. Great nights skinny dipping.
Juarez & it's Impact on Us — Or Vice Versa — This one deserves it's own page!
Mt. Cristo Rey, Mexico — Can't find this on the map, but remember seeing it from UTEP.
Northgate Center — Northgate Center was renamed to North Park but that didn't help and is now back to Northgate. The entire place is almost deserted. They built a Walgreens in the corner, at Dyer and Wren — next to that is a combo A&W and KFC.
Northgate Library — The library building is still there but the library was moved to the old Sears Building which is now also a police sub-station and court house.
Northgate Theatre — Building is still there, converted to a day care and is now vacant. Friends there used to sneak me in when I was young, poor and reckless.
Restlawn Cemetery and Funeral Chapel on Dyer — Can't tell all the things about that place, but they sure weren't about death and cemetery plots!
Red Rooster — At Diana and Dyer, this was the "rougher" drive in compared to the Oasis as I recall. How fitting, it became a strip club and was subsequently shut down by zoning laws.
Rocket Drive-in — Located at 10405 Dyer, this was "our" drive-in. It opened in 1966 and apparently closed in 1975. I remember it being innovative for having the first steel spikes I had seen, to puncture your tires if you came in the exit. Now if they were willing to do that, how come they didn't check the trunk? The Del Norte Drive-in was towards town on Dyer and folks snuck in there in car trunks too.? Went there a lot but just can't pull it back from the memory banks.
Sunrise Center and the Blue Spear — Looking for a now and then photo if anyone has one please send. Was told the blue spear came down in the mid 90's and the fund raiser to put it back didn't make it.
What-A-Burger — Ate my first Triple Meat, Triple Cheese there. Now a car appraisal lot.


The Oasis — Does this bring back Memories? Borrowed it from another website, Austin HS I believe, and if this is a real picture, there must have been another Oasis in their part of town because I remember the big deal about covered parking (and carhops). Many fond memories of this place, it was a home away from home, always telling my folks I was going there to meet friends. Probably could have bought the place for what I paid for cokes.




Plaza Theatre — Premier of Dr. No May 18, 1963. Many good nights at this theatre.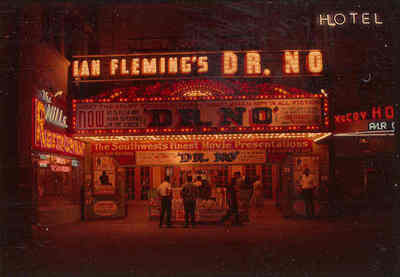 Scenic Drive — Bring back memories? Wonder if it is as scary now and as well traveled.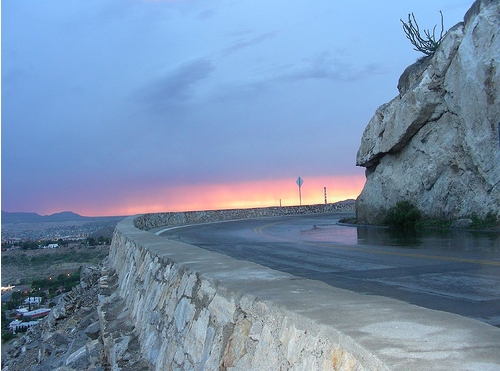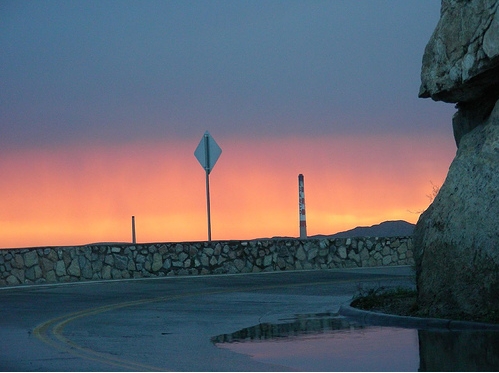 As I Recall, the smoke stack was taken down in a demolition move some years back.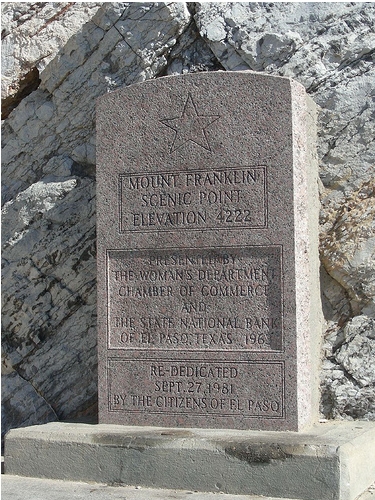 Ft. Bliss - Remember how everyone stopped their car and got out and saluted when the flag was raised? Assume they still do.