James "J River" Shasteen Descendants

If you read through the other James files, particularly the Virginia Deed and Tax Research file, I believe you will agree with
my conclusion on the male descendants of James "J River" Shasteen as (secondary info included in sub bullet under each child):

• Robert - Tax Roll research and the 1832/1812 deed work
• married Nancy Casky 7 Feb 1804 Rockbridge Co VA (usually shown as Robert Chasteen to Nancy Casky)
• source also Virginia Chastains, Lowell Chastain; Rockbridge Co., VA Marriage Bond Book 1, p. 94
• James - Tax Roll research
• Cameron Allen article assumes wife is probably Martha based on census work, 1820, 1830 and 1840 Ross Co OH
• William - Tax Roll research and the 1832/1812 deed work
• no marriage records but Elizabeth Shasteen b 1782 VA d 12 May 1856 widow Richland Twp, Defiance Co OH (have copy of death record)
• Edmund - Tax Roll research and the 1832/1812 deed work
• Edmond Chasteen m Susana Whittten 3 Jul 1823 Ross Co OH (have several source copies)
• John - Tax Roll research
• John Shasteen m Anna Whitten 8 Apr 1813 Gallia Co OH (some sources substitute Hannah, have several source copies)

The female descendents as:

• Elizabeth - the 1832/1812 deed work (no other record of her found)
• Francis - the 1832/1812 deed work, assuming the name is incorrectly written or transcribed and is the female name Frances
• There is no indication of a male Francis in this time frame
• Franky Shasteen m Nathaniel Holly 08 Jul 1818 Gallia Co OH (IGI records)
• Some likely but not firmly tied in census records 15 1820 and 1830 Gallia and 1850 Defiance Co OH
• Mary A -
• Mary Shasteen m Andrew Ewing 23 June 1826 Ross Co OH (have copy of marriage record)
• Census work in 1840 Henry Co OH, 1850 Defiance Co OH, and 1860 Darlington, Beaver Co. PA
• Rosanna -
• Census work in 1840 Henry Co OH, 1850 Defiance Co OH, and 1860 Darlington, Beaver Co. PA


Miscellaneous Information Pertaining to this Family Group in Ohio


The Strange Estate of Johann Ulrich Albrecht - 1866 Receivables from this man's Yellowbud store list James C. Shasteen owing $13.00 and James Shasteen, Jr. owing $12.50 in notes and William Shasteen $2.95 and James Shasteen, Jr. owing $4.50 on account at the time of his death. In all likelihood, this is James b 1807 d 1866, his son James C. b 1834. But it could be Robert's brother James' son James b 1823 (although there is speculation he went on to Defiance/Henry county). All should have been in Yellowbud in 1866. The William may have been Robert's son William b 1814/1816 d 1902 or James b 1807 son William Henry Harrison Shasteen b 1841. No other likely candidates seem to be available.
Ohio Map for this Research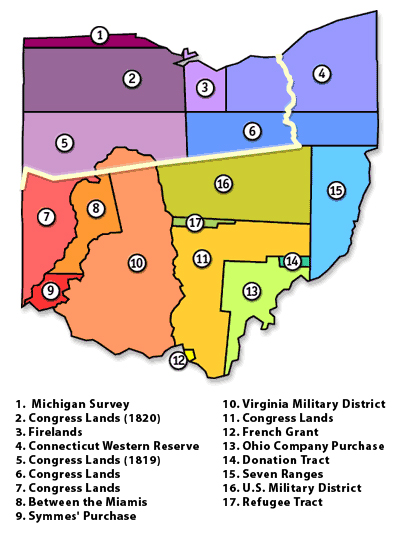 This map shows the different Land Grants that were used to settle Ohio. Because of the number, may title issues arose, but it set the pattern for the public distribution of lands for subsequent states.

Edmund Shasteen #1, #2 and William Shasteen (Shanteen) #1 both had
1835 Ohio land federal purchases but no light was shed on James.

No other public land purchase were found for Shasteens in Ohio.

I have seen no other general information on land grants.