Source: Martha Gerber Rittinger, Ross County, OH

Lineage:

James Shasteen (Shastead / Chastain) (b circa 1755 - 1760 d circa 1810 - 1820) & Phoebe Pagett
-Robert Shasteen & Nancy Casky
--William Shasteen & Elizabeth Sly Pritchard
---Martha Jane Shasteen & Johann Jacob Slager
----Schuyler Lewis Slager & Verbena Gartner
-----Elizabeth Martha Slager & Ernest Joseph Gerber

Comments:

Martha has been very active in researching the history of the Ross County area and the Schlager/Slager, Gerber, Spetnagel, and Hellmuth families in particular. She has "collected" information on many other area families of the area, like the Shasteen family, to the extent that many consider her as much more than a mere collector. She has written, researched, and/or participated in many publications about the area and to my understanding has been very active in the Ross County area genealogical circles.

Martha has provided me with considerable Shasteen information she has "collected" on the Shasteen line and has graciously provided me with and granted permission to display many photographs that she has collected over the years pertaining to the Shasteen family and the Yellowbud, Union Township, Ross County area.

My most sincere thanks to a talented and apparently tireless woman who has blessed the lives of those she has touched.

These pictures are from her personal collection and/or from one of her books including:
SCHLAGER/SLAGER FAMILY HISTORY
History of Springbank and Yellowbud Community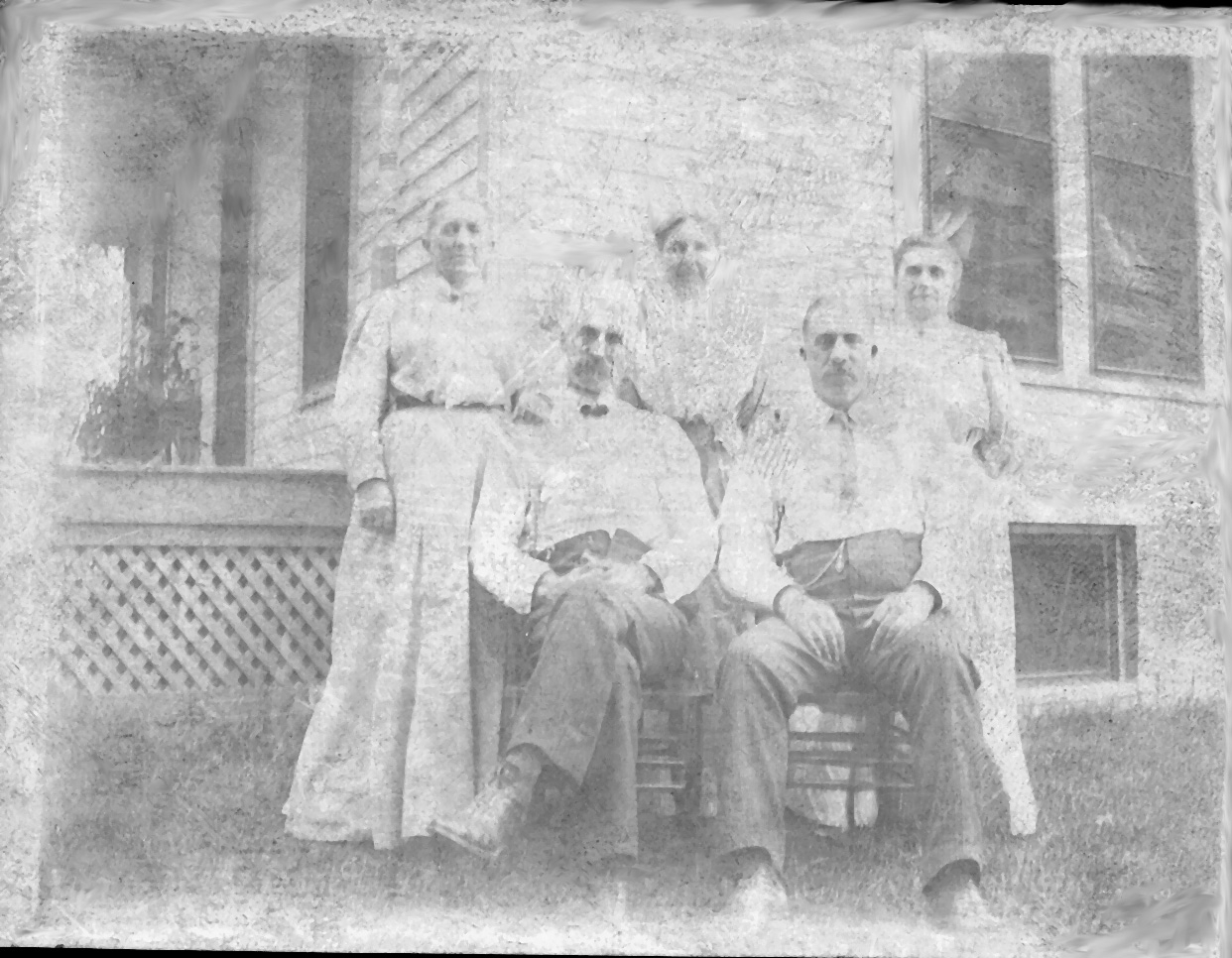 "This Alice Slager picture came from a neighbor for me to give to Aunt Alice's grandson (son of her only child Amber Noble). Amber frequently came back to this area and preached by grandfather's funeral in 1953. Shortly thereafter he disappeared as far as any of us knew at that time. I left messages but was never able to locate the son as we learned that Amber had died and I had no way of knowing if he had died also or where he was. I have kept the pictures for him since the mid 1960's and plan to give the ones that I cannot identify to the Ross County Museum. Great Aunt Alice was a sister of my grandpa Slager. Their mother was Martha Shasteen Slager [Martha Jane Shasteen Slager 1843-1913 daughter of William Shasteen & Elizabeth Sly Pritchard] so we are related to the persons in the picture. It was barely viewable so I repaired the image as best I could. See if you can identify any of the persons." - Martha

Per cousin Karen Osborn,
Seated, l to r: William Finley "Finn" Shasteen; Francis Marion "Frank" Shasteen
Standing, l to r: Mary Alice Shasteen Keller (m. Shepherd Keller)*; Margaret Shasteen Fulton (m. Peter Fulton)**; Emma A. Myton Shasteen (wife of Francis Marion Shasteen)
*Mary Alice Shasteen Keller was my gg grandmother
**I am quite positive about all of them except the one I have labeled Margaret - the photo quality is poor, but I'm pretty sure that's who she is.

William Shasteen b 1807-16 d 1902 m 1836 Elizabeth Sly Pritchard b 1817 d 1874
Children were Edward 1839-1919, Lewis Clark 1842-1995, Martha Jane (Slager) 1843-1913,
Emily "Emala" (Wood) 1847-192, Margaret (Fulton) 1850-1920, Mary Alice (Keller) 1853-1942,
William Finley b 1856 d 1933 Francis Marion "Frank" 1859-1943 & Ella b abt 1868 d ?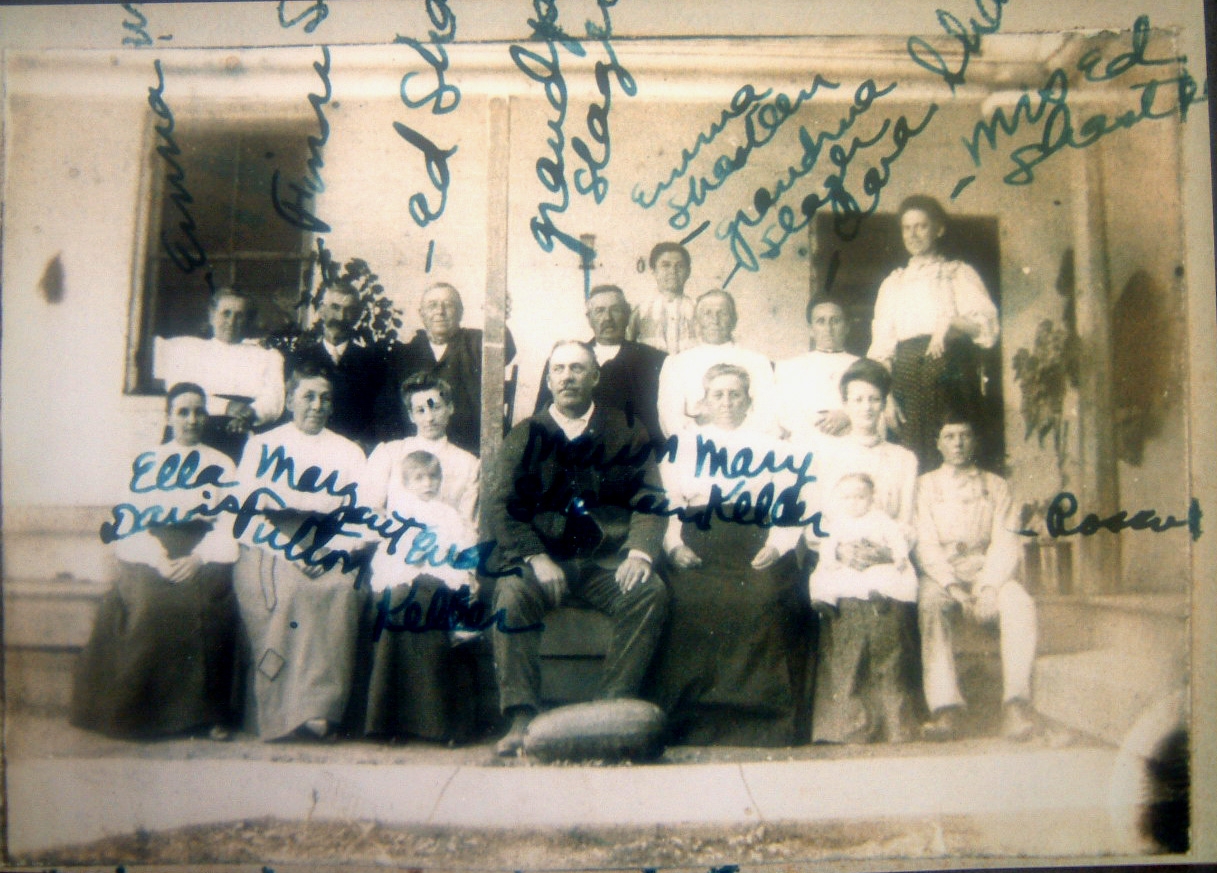 The Francis Marion "Frank" Family - Circa 1900
Rear Standing - Emma Shasteen Wood, Fin ?, Edward Shasteen, Grandpa Slager [Johann Jacob Slager 1833-1914], Emma (A. Myton wife of Fank) Shasteen, Grandma Slager [Martha Jane Shasteen Slager 1843-1913], Clara Shasteen [dau b 1869 m 1902 of Edward Shasteen?], Mrs. Ed (Malinda M. Minear) Shasteen
Front Sitting - Ella Davis [Not known], Margaret Shasteen Fulton, Eva Keller [dau of Mary Alice b 1880], Unknown baby,
Francis Marion "Frank" Shasteen, Mary Shasteen Keller, Unknown, Unknown baby,
Roscoe Shasteen [1891-1980 son of Frank and Emma Shasteen]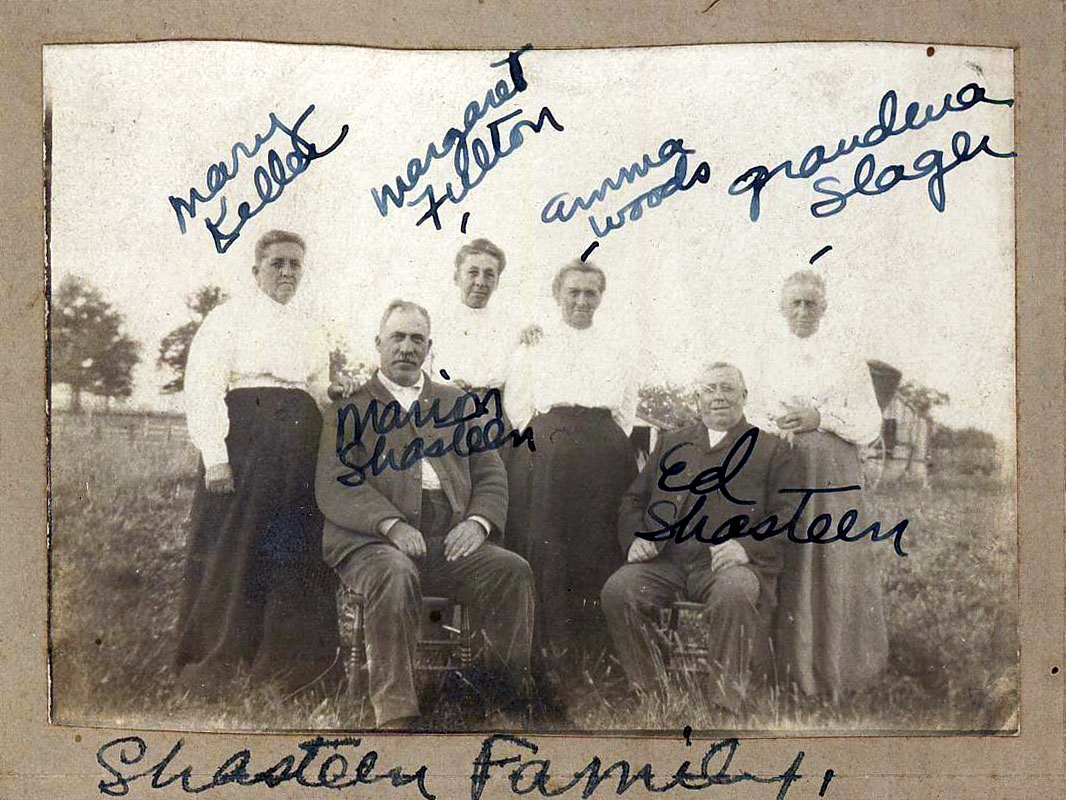 The Francis Marion "Frank" Family (Circa 1910)
Rear Standing - Mary Alice Shasteen Keller [1856-1942 m 1874 Shepherd Keller 1851-1922],
Margaret Shasteen Fulton [1850-1920 m Peter C. Fulton 1863-1943],
Emma Woods [Emily Shasteen Wood 1847-1921 m 1867 Benton Shields Wood 1845-1930],
Grandma Slager [Martha Jane Shasteen Slager 1843-1913 m 1867 Johann Jacob Slager 1833-1914]
Front Sitting - Francis Marion "Frank" Shasteen [1859-1943],
Edward "Ed" Shasteen [1839-1919]


Circa 1890
Lewis Clark Shasteen 1842-1895 m 1878
Sarah Elizabeth Lyde Hockinberry 1854-1904
Floyd Edward "Eddie" Shasteen 1878-1949
Clara (may be Blance May Shasteen b abt 1880?)


Circa 1880
Emily (Emala) Shasteen 1847-1921 m 1867
Benton Shields Wood 1845-1930

Circa 1885-1890
Edward Shasteen 1839-1919 m Malinda M. Minear 1846-1906
Clara Shasteen Ferguson 1869-aft 1920
& Mary R. Shasteen Peck 1871-1909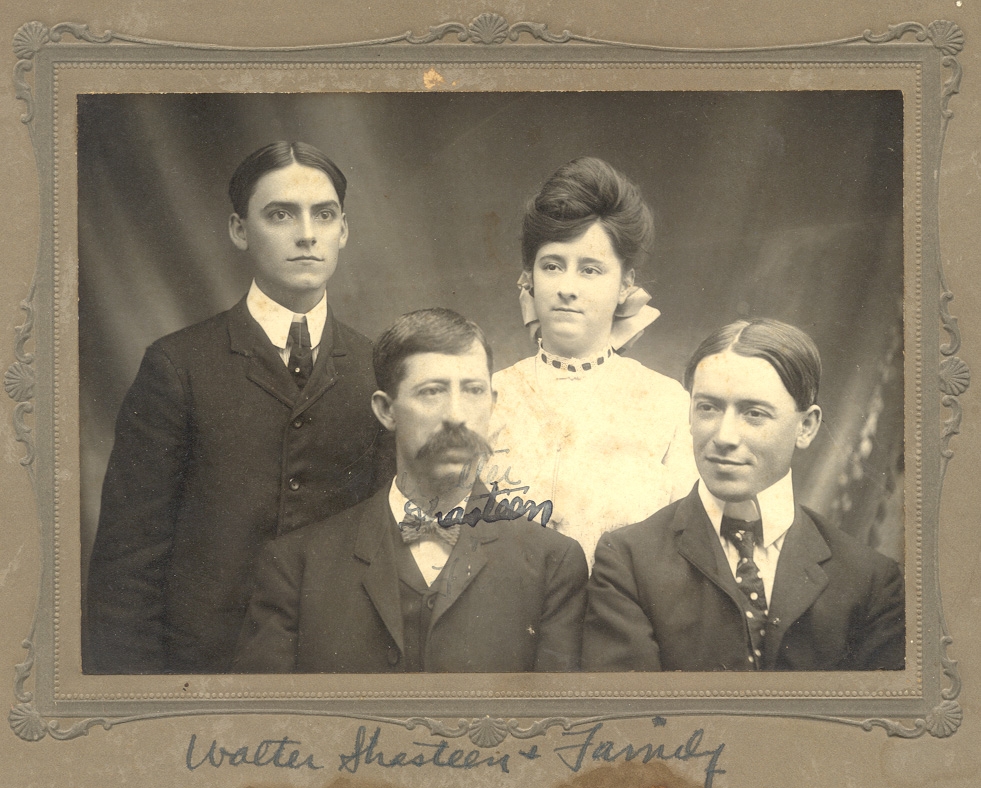 The Walter W. Shasteen Family (Circa 1905-1910 )
Left to Right - Onna B. Shasteen 1886-aft 1917
Walter W. Shasteen 1862-aft 1910 m 1885 Louise Loni V. Hough Shasteen 1862-aft 1900
Agnes C. Shasteen 1889-? - George Hardy Shasteen 1884-1980