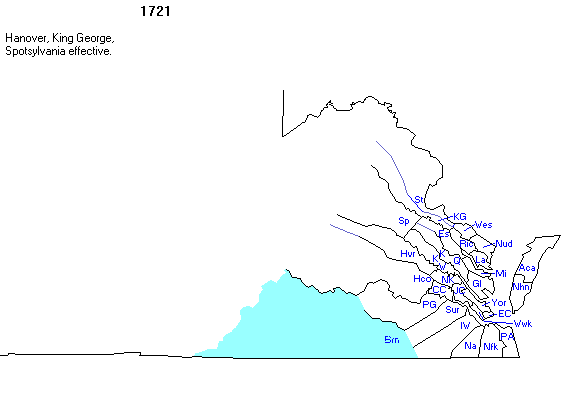 Henrico was one of the initial counties in 1617 but was loosely defined until 1634

Note that all early deeds were Henrico.

Then:
1728 Goochland formed from Henrico in 1728
1744 Albemarle formed from Goochland
1761 Amherst formed from Albemarle

1778 Rockbridge formed from Augusta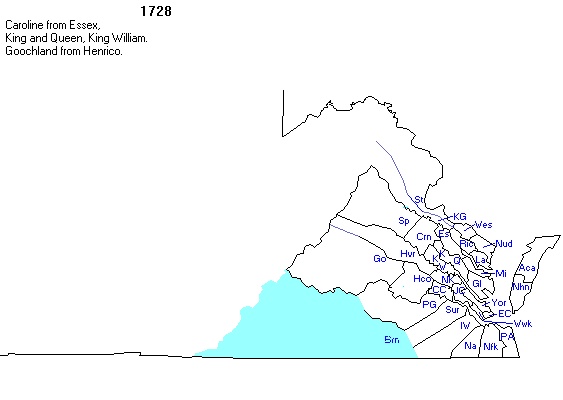 1728 Goochland formed from Henrico

Point here is that Goochland at this time included what became Albemarle, Amherst, Buckingham and part of Bedford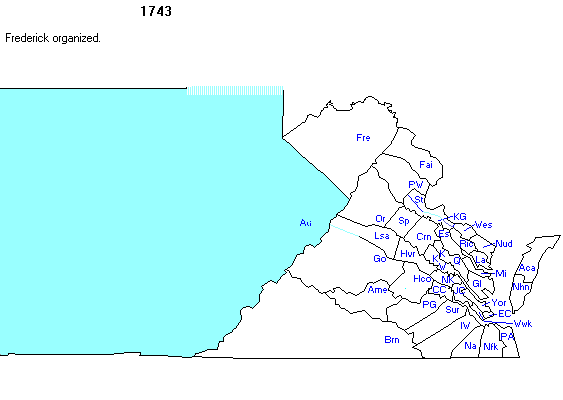 Frederick organized basically from scratch
May be the birthplace of Eleanor Ryan if a city called Rock could be located. Otherwise, assume whe was born in Rockbridge Co., not Rock, Fredrick Co., VA. The only Rock I have found is in present day Mercer Co., WV, pretty much due west from Lynchburg, VA, shortly across the state line. As best as I can tell, that would never have been associated with a Frederick or Fredrico Co., VA.
There is a Pinnacle Rock VA in Frederick Co., VA about 20 miles east of Winchester, VA.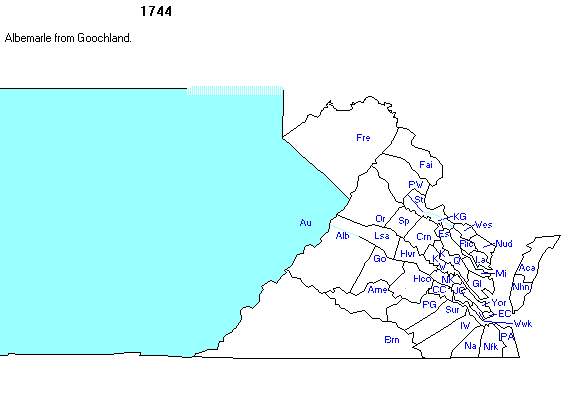 1744 Albemarle formed from Goochland


Aug 1748

Albemarle Co. -

Sharstead, James

witness, sale of 580 A from John Thrasher to James Smith





Nov 1751

Albemarle Co. -

Sharstead, James

150 A to Wm Cabell




Bedford was formed in 1753 from Lunenberg (which had been a part of Brunswick) and Albemarle (small portion on the south end).

All of this may have blurred the lines for record keeping, although the James River appears to have formed the southern border of present Amherst in old Amherst/Albemarle/Goochland from early times.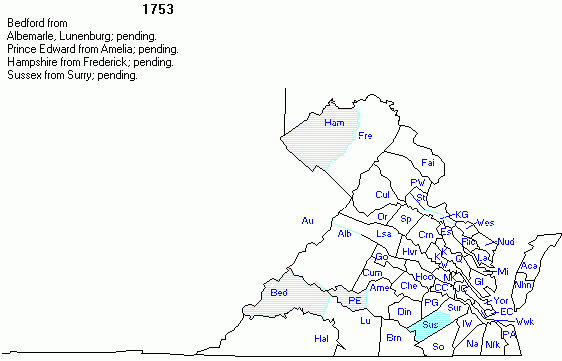 1753
Bedford formed from
Albemarle, Lunenburg, pending, etc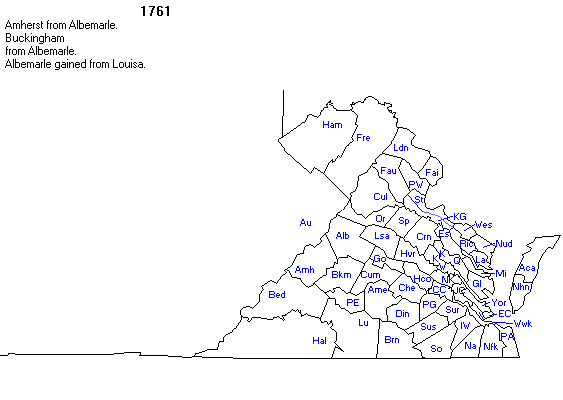 1761 Amherst formed from Albemarle
Buckingham formed from Albemarle

The 1748 & 1751 transactions I would speculate were in southwest Albemarle Co at the time

No subsequent changes to Amherst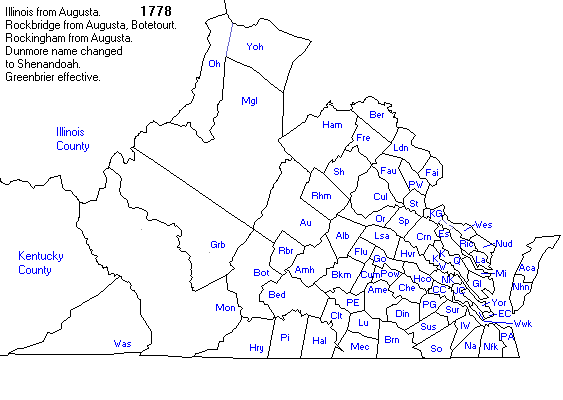 1778 Rockbridge formed from Augusta

Doubt this impacts the "Ohio" Shasteen analysis, but included as the 1810 census had Robert in Rockbridge and James in Amherst.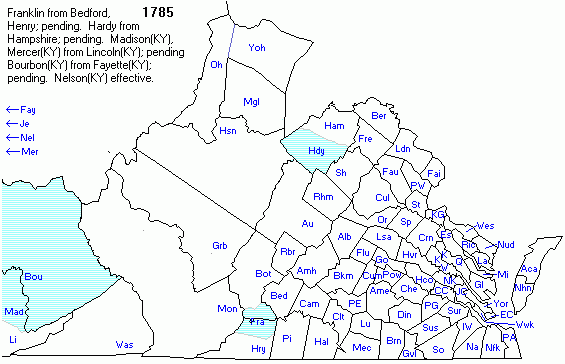 1785 Franklin from Bedford
and others as noted.
Significance is this is the last major change in counties of significant interest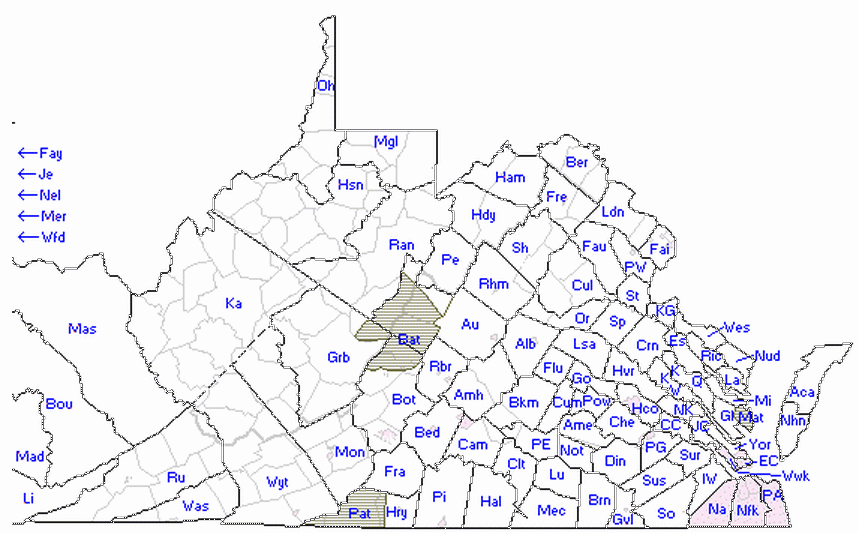 1790 Census map with Modern Counties Overlaid in Light Gray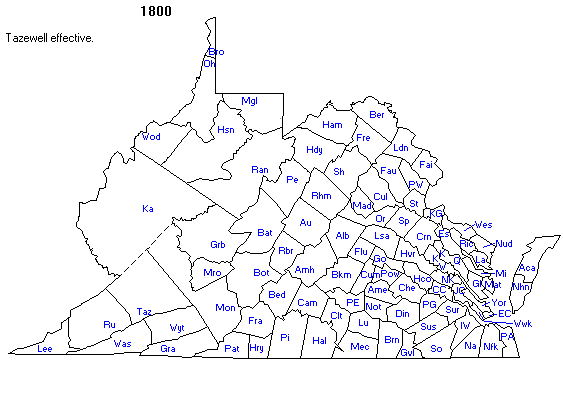 Shows area for 1790 and 1800 census (No change for Amherst, Rockbridge)

No Chastains, Chasteens, Shasteens were shown in VA for the 1790 or 1800 census but we know the "Ohio" Shasteen's were in the Amherst Co. area due to property tax rolls of 1790 and 1800.

Also,

William

who appears to be the father of

George, Valentine, Robert, Barnett, Ren, John and

Thomas are on the tax rolls for Franklin Co., (south of Amherst and Bedford countines) for the period 1786-1803 using variations on the spelling of Shasteen.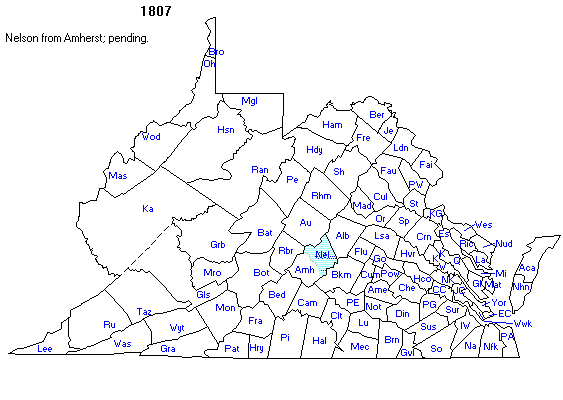 Shows area for 1810 census (Note change for Amherst, half became Nelson)

Note that for the 1810 census:

Robert Shasteen was in Rockbridge with 0 males over 45

James Shastead was in Amherst with 1 male over 45 and NO males 26-45.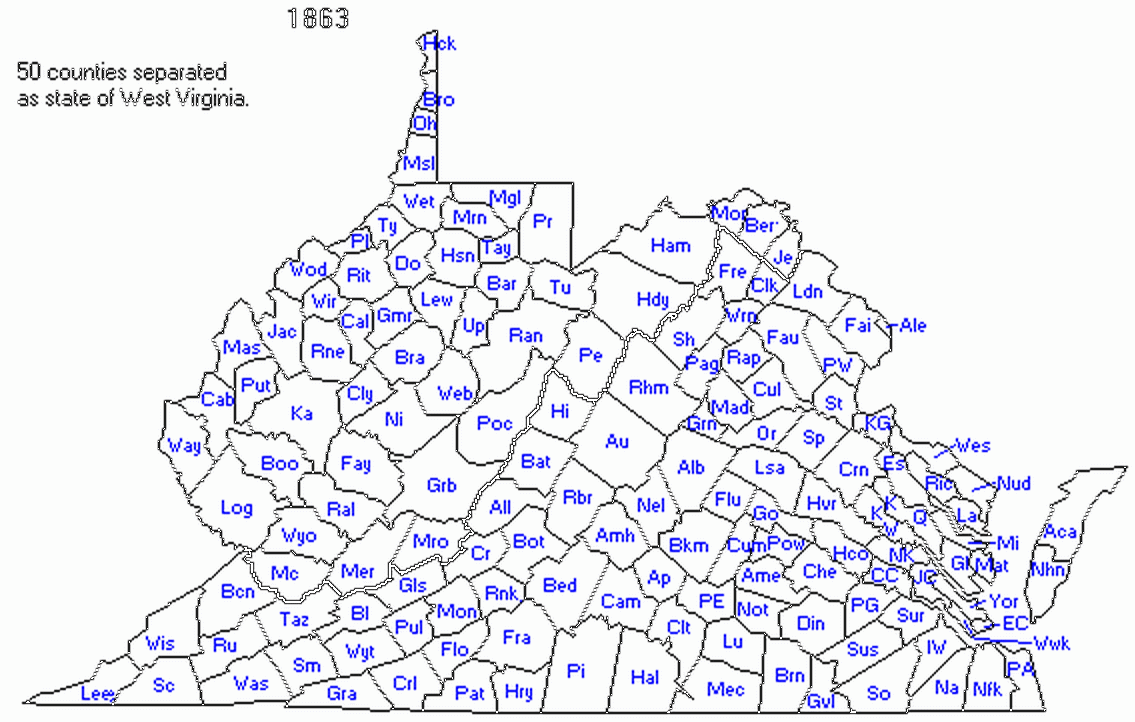 1863 50 counties separated as states of West Virginia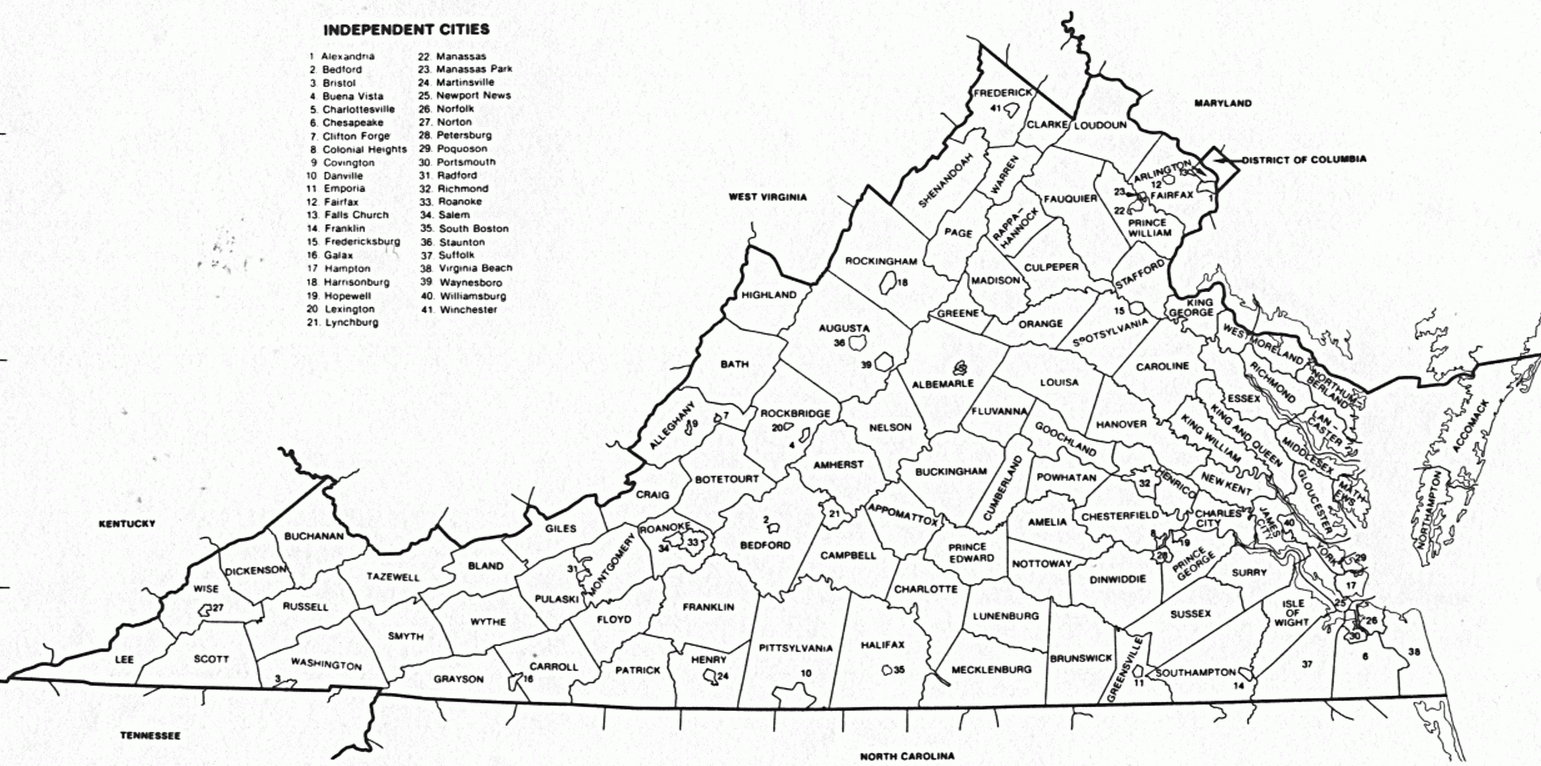 Virginia Counties Map - Current