The purpose of this map is to identify specific landmarks in Amherst County that relate to research particularly of deeds, wills, etc.
It is intentionally large to fill your monitor and high resolution to facilitate reading. You may be able to enlarge depending upon your software. It is about a 3 meg file.
Landmarks indicated below.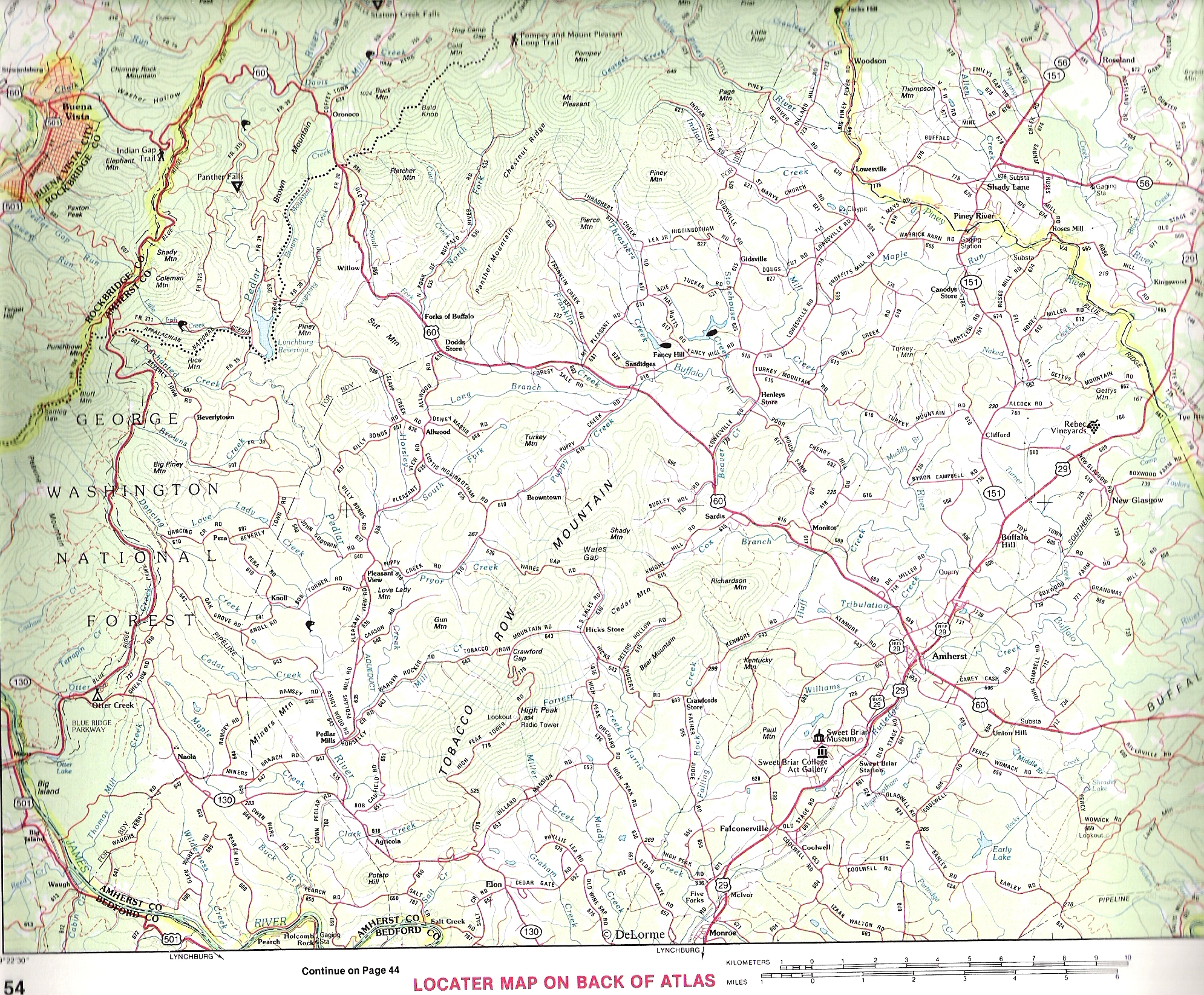 — Map_AmherstVA.doc , download this doc file if you see no reference points on the map. —
Ref
Num
Map
Ref
Location and Description
Ref Num = Green box, red number — Ref Ltr = Turquoise box red letter
Ref
Ltr
Comments
1
City of Amherst - Follow Hwy 29 from above the work Atlas N to Hwy 60
General Reference
Bedford Co bottom of page, Rockbridge to the left and above, Nelson Co to the right and above - Note yellow tinting of county lines
My Shasteen line in Rockbridge and Amherst Cos.
.5A—1
Pisgah Hill, Rockbridge Co- Off of map to the top left
Don't remember significance.
2
D —0.8
Otter Creek, Amherst Co - Blue Ridge Parkway follows Otter Creek from Hwy 501 in the lower left corner. Note Otter Lake also.

I suspect the Otter Creek property to be closer to the James River rather than father away to have sufficient flow to power a mill, so I have indicated that on the map with the placement of the C letter nearer the James River.

B

C

C


C
Referred to in


Nov 1751

Sharstead, James

150 acres to Wm Cabell Huff's Creek East side of Tobacco Row Mountains
17 Jun 1799

Shastead (& Shattead), James

100 A

from

Ambrose

Gatewood, Sr

on Otter Creek
15 May 1812 James Shastead, Sen 130A to

John & R.S. Ellis

Both sides Otter Creek and the mill and all the premises (Never found purchase)
14 Sep 1812 Shartead James, Jr. & wife Phoebe 100A to John & R.S. Ellis et al - Both sides of Otter Creek
3
D — 2
Tobacco Row Mountain, Amherst Co - Directly above the word locater
B

Nov 1751

Sharstead, James

150 acres to Wm Cabell Huff's Creek East side of Tobacco Row Mountains

4
C 0.8 — 2.5
Huff Creek, Amherst Co - about 3 miles W NW of Amherst
5
C — 3.5
Buffalo Creek, Amherst Co - NE of Mountain in Tobacco Row Mountain
Buffalo was used as a designation for one of the James Shasteen's in the Amherst Tax roles in 1791-1792
6

7
D — 1.5
Pedlar Mills, Amherst Co - About 4 miles above the word Continue at the bottom of the map.
Pedlar Creek appears to start at point 7 and run down to point 6.
Pedlar was used as a designation for one of the James Shasteen's in the Amherst Tax roles in 1787-1790. This designation could cover 8-10 miles from point 7 on the map down to point 6.
A

Aug 1748

Sharstead, James

witness, sale of 580 A from John Thrasher to James Smith

D
13 Apr 1789 Shasteen, Jesse, wife Elinor and Elizabeth Wade to Jacob Puckett for 35£, recorded in 1789 in land tax alterations North fork of Davises Creek, formerly owned by John Wade...James Cull's line...William Allen's part...Archibald Coffey's (Jesse married his widow Elinor) (Note proximity of Davis Creek and Coffey Town on the current map)
<![if !vml]>
<![endif]>
<![if !vml]>
<![endif]><![if !vml]>
<![endif]><![if !vml]>
<![endif]><![if !vml]>
<![endif]>
<![if !vml]>
<![endif]><![if !vml]>
<![endif]><![if !vml]>
<![endif]><![if !vml]>
<![endif]><![if !vml]>
<![endif]><![if !vml]>
<![endif]>

Copyright © 1995-2014, All rights reserved