Linked, if available, to gravestone picture

Joseph M. Wodicka (Wodischka) (Closeup) — Sec 018 lot 0004 — 1839-1909
wife Johanna K. Suda Wodicka (Wodischka) (Closeup) — Sec 018 lot 0004 — 1839-1910
son William Lawrence Wodicka, Sr. (Distance) (Closeup) — Sec 36 lot 0590W — 1869-1944
wife Mary T. Schwartz Wodicka (Closeup) — Sec 36 lot 0590W — 1869-1945
son Lawrence Paul "Samuel" Wodicka (on parents stone) — Sec 36 lot 0590W — 1897-1918
daughter Helen M Kraft & husband George A Kraft — Sec 36 lot 0590W — Helen M. Wodicka Kraft 1900-1999 — George A. Kraft 1901-1981
son Robert Kraft — Sec 36 lot 0590W — 1927-1939

John Bubla (Distance) — Sec 019 lot 0034W — 1832-1884
wife Katherina Broz Bubla — Sec 019 lot 0034W — 1835-1904 — Parents of Mary K. Bubla Heytmanek

Alex Heytmanek — Sec 013 row 31 lot 00PG No Stone— abt 1835-1872
wife Mary Swoboda Heytmanek (Wessele, second husband, cemetery)— Sec 022 Lot 0070S No Stone — 1840-1914 — Parents of William Heytmanek

Wenzel Heitmanek — Sec 011 Lot 00PG — abt 1801-1873
wife Mary Thresia Heitmanek — Sec 009 Lot 00PG — abt 1815-1873 — Parents of Alex (1835-1872), Wenzel (1842-1916) and Theresia (1850-?)
Note: William (Wenzel) Hejtmanek 1842-1916 Death Certificate lists father as William Hejtmanek, mother as Alexandra Prinz both born Bohemia.
Assumption is that this was the father's first wife and Mary Thresia is his second wife.
Gravestone of Wenzel 1842-1916 and first wife Maria - close up - very close up of Maria side - Wenzel side not engraved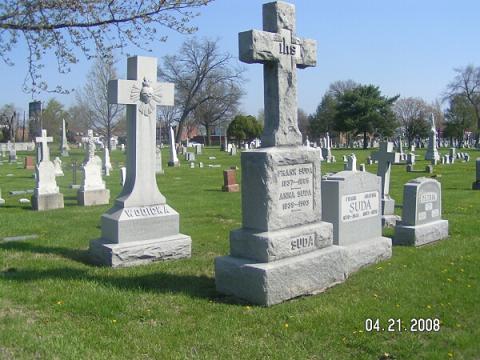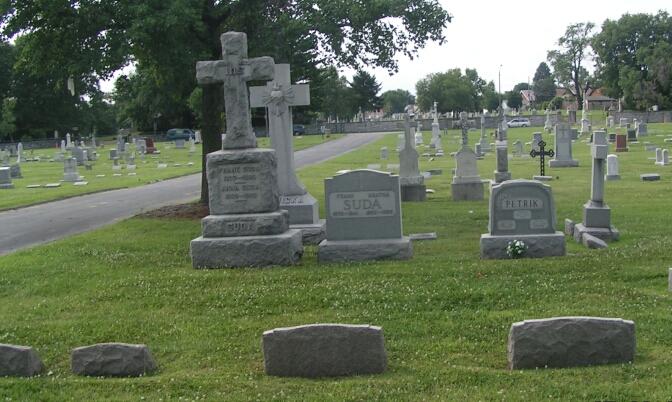 Above two pictures are of the main Wodicka Suda lot at the cemetery.
Mathias & "Rose" Mary Suda are in this lot (Sec 018 Lot 0004) without a stone, assumed to be to the right of the Joseph & Johanna Suda Wodicka cross on the far left.
Behind that stone to the left are their son Anton & wife Anna Suda with a flat and a low stone.
In front of that stone from left to right (Sec 018 Lot 0003W), son Frank & wife Anna Suda, his son Frank & wife Agatha Suda,
and their daughter Julia and her husband Mathias Petrik.